Our Team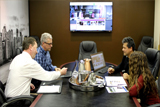 We provide dedicated staff and project managers for your needs.

We learn your product, business and work closely with you, one to one.
Part of our team includes:
A dedicated account representative
Dedicated systems and order processing person
Warehouse staff operations to work with your inventory space requirements
Dispatch and shipping staff to handle and manage all your shipping requirements
Information Technology staff to assist in system startup, support and customizing our solutions to your business.
Management
Ron Hancock
Position: President
Wayne Passero
Position: Vice President
WE PROVIDE SOLUTIONS
Warehouse Management
Frank Di Pietro
Position: Vice President Operations
Rob Black
Position: Warehouse Operations
Transportation / Logistics Management
Mike Maciel
Position: Logistics Specialist
Cesare Di Pietro
Position: Logistics Specialist
Retail Services
Steve Heckford
Position: Director of Retail Services
Customer Service and Accounting
Josie Di Pietro
Position: Accounting Manager
Integration & IT
Carlos Alfaro
Position: Integration Specialist