TECHNOLOGY
PRO-MOTION provides its own in-house systems to it's customers as an available service.
Inventory Warehouse Management System, known as the "iWMS".
Web Store Front, On-Line Ordering
Smart and Virtual Warehouse Online
Transportation and Logistics Software System, known as the "iTLS System".
Shipping Software for Labeling, Documentation and Automation
On-Line Shipping for Pickup Request, Shipment Entry, Day-End Manifest, Documentation and Reporting
We can customized our Screens and Access to personalize it for your business and your customers
Working with you to provide customized solutions, seamless business to business integration.
Dedicated IT Department to work with our customers to provide seamless integration of services.
We support and provide integration services for E-Commerce, EDI and B2B.
Request an Account...
INTEGRATION SERVICES
Customized solutions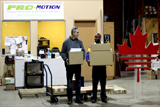 Our added value services also include information technology services from our own in-house IT Department catering to your specific needs.
We can tailor our already flexible systems to suit your exact requirements from process flow, to customized data entry screens to changing our reports to suit your needs.
We customized our own in-house systems to suit your business requirements.
We Work For You
We will ask you how we can integrate your business operations with ours to provide seamless transparency.
Some benefits we will create are,
reduce duplicate entry
streamline paper flow and documentation
provide your information at your fingertips, so you can make complete business decisions.
Find out more...