DISTRIBUTION
If you're looking for a great location to set up your Canadian distribution centre, or Smart Warehouse, we've got the perfect solution.
Providing third party logistics to multiple clients from our facility in Mississauga near the Lester B. Pearson Airport, PRO-MOTION is well situated for your local and national requirements.
From pick up of product, storage and kitting, through to delivery and set up, our strength is providing clients with end to end coordination of their projects.
With almost 100,000 sq ft of warehousing PRO-MOTION can manage staging and storage of any retail program including final assembly and packing.
Our ability to act as a distribution centre and deliver "just in time" inventory allows us to provide complete service, door to door.
One Package, Skid, Truckload, Roll-outs, Distribution, Local or National, we can service your requirements.
OUR WAREHOUSE, IS YOUR WAREHOUSE.
WAREHOUSING
Warehouse Management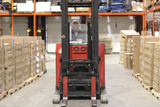 Warehousing Storage, Short or Long Term
Warehouse Pick & Pack
Physical inventories and/or Cycle Count
Replenishment Programs
Order Fulfillment
Build to Order Kitting
Distribution Management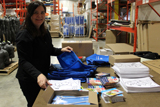 Cross Dock Services
Consolidation and Distribution
Container Loading & Unloading
Expedited Orders
Smart Warehouse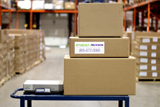 Online Access to your Inventory / Visual Warehouse
E-Fulfillment
Real time On-Line access to Warehouse Inventory Levels
On-Line Reporting of Inventory and Order Statuses
On-Line Order Taking
Shopping Cart and Store Front for your Business
We provide with you a Warehouse Management System (WMS) and On-Line Web presence
Find out more...