Overview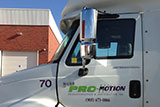 Asset based, our own fleet of trucks and drivers providing personalized services for pickup, delivery and installation services.
Pickup services
Door to door services
Consolidation services for optimized and scheduled delivery
Local and National delivery services
International delivery services
Small Package, LTL or Truckload services
Maximize your competitive edge by using our "one-stop" shopping for all your shipping needs... anytime... anywhere... any size... any weight.
Transportation
Local or National Service
Providing third party logistics to multiple clients from our facility in Mississauga, PRO‐MOTION is well situated for your local and national requirements. We provide personalized pickups and deliveries.
Freight Services
We tailor our resources and services to you.
Less then Truck Load or Full Truck Load
Regular or Expedited Road Services across Canada
Direct Drives and Emergency Services available
Air Services in Canada or USA with our partners
Oversize, Any Size
Our facilities, drivers and fleet are equipped to handle all your requirements.
Oversize, Any Size, Staging and Storage
Tailgates, Ramps, Blanket Wrap, Straps, Load Bars
Pallet Jacks and White Glove Service
Our Dock is Ready For You
With nearly 100,000 sq ft of warehousing PRO‐MOTION can manage staging, storage and delivery of any roll‐out, consolidation or distribution. Cross Dock, Short and Long Term Storage services are available to assist with your freight requirements.
On-Line Services
Our Dispatch Team is ready to help you. We provide On‐Line Pickup Request, On‐Line Shipping and On‐Line Tracing. Integration services are available for Pickup, Delivery and Order Fulfillment.
Contact Us...